Posts Tagged "Civics"
November 12, 2021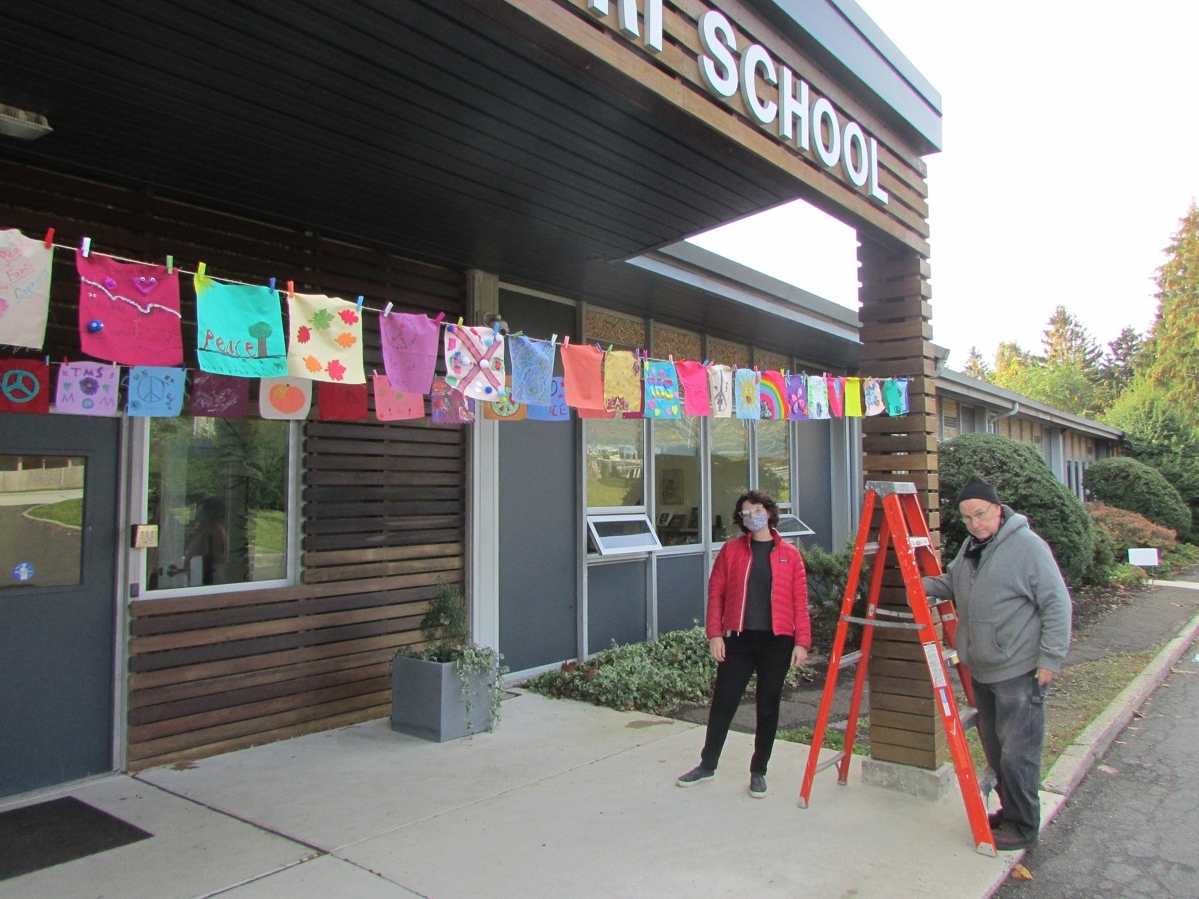 Education for Peace is a central tenet of Montessori philosophy. It is implicit in the Montessori Culture curriculum through the study of the universe, the world and its inhabitants, civilizations and cultures.
Peace is cultivated in the school's classrooms on a daily basis through learning and practice of hands-on peace-making skills, exercises in mindfulness, and intellectual academic activities that lead to a greater understanding of peace. Lessons in Grace and Courtesy, use of the Peace Table in Children's House for 3-6 year-olds, and Conflict Resolution in Elementary for grades 1-6, provide tangible ways for children to practice peace among themselves under the guidance and modeling of caring adults. This is why we call TMS children "Ambassadors of Peace" when they go out into larger communities beyond TMS.
The creation and display of the Peace Flags came as a brainstorm to our new Parent Engagement volunteer, Laura Zhu, who elaborated on her idea, "In light of the pandemic, we were struggling to find connection with other students and families without physically gathering in one place. When the school was unable to sing as a community for the International Day of Peace in September, as they usually do, I realized that we could symbolically 'sing' together by stringing together physical messages of peace, love, and unity outside the school. Every student--from 18 months old up to 6th graders--was given a colorful fabric square, as were staff members, and asked to decorate it in whatever way they pleased in accordance with that theme. I was blown away by the creativity and diversity of designs they came up with! We hope that others can enjoy our calls for peace and compassion in these difficult times, as well as appreciate the beauty of our students' and staff members' heartfelt work." Laura summed up her vision by saying, "A single flag may be lovely, but when we all join together, the whole is much greater than the sum of its parts."
November 17, 2020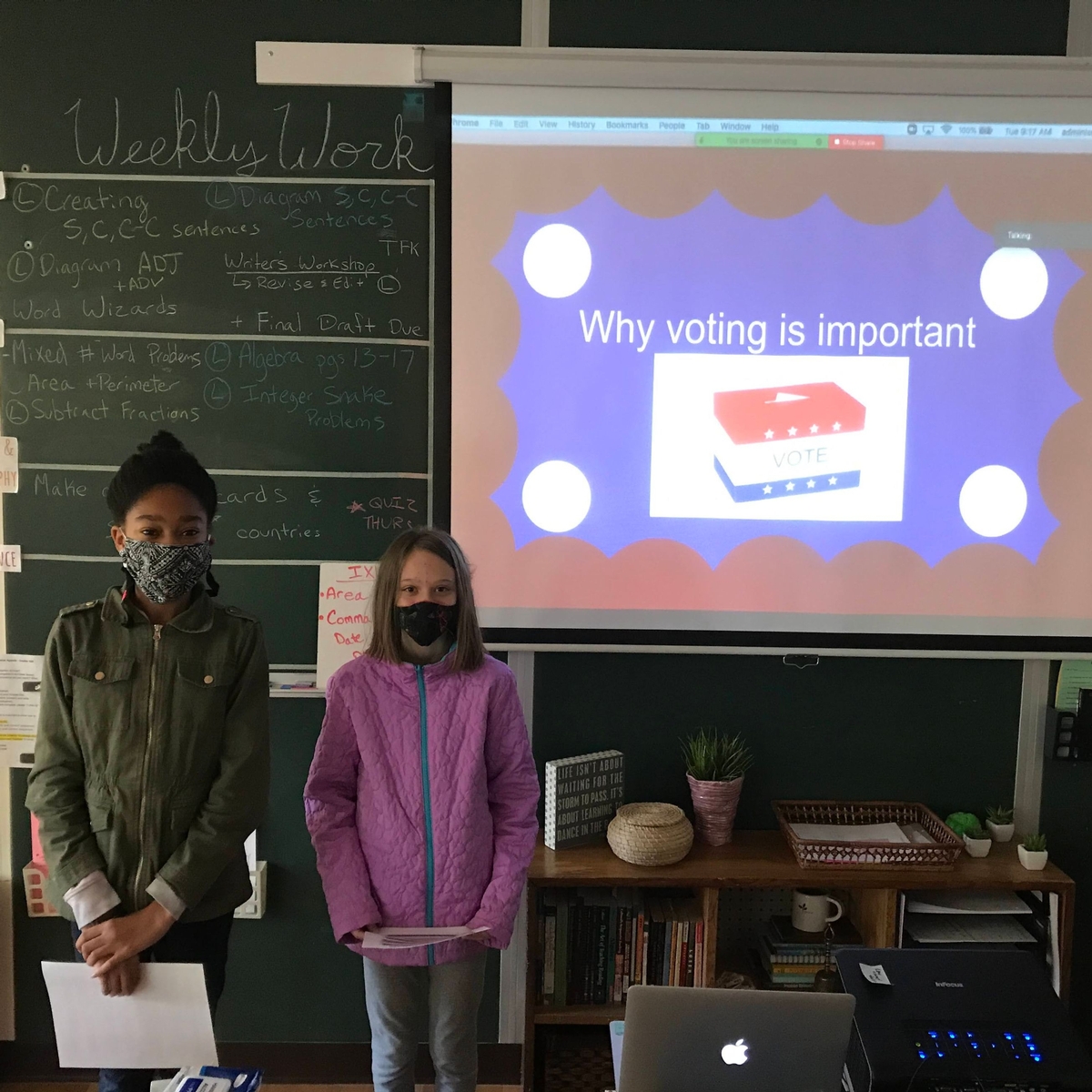 Why is voting important? While unraveling this question we realized that voting isn't something that just affects grown-ups, but it also affects kids. Because things that we care about, like saving the animals, climate change, and so much more, can be changed if we have the right people in office, like mayors, senators, and the president. But how do we get these people in power? By voting. So we will unravel the history of voting, how we vote, and why voting is important in this essay.
First of all, where did voting even come from? Was everyone automatically able to vote? "Well before the revolutionary war, votes were cast not by ballot, but by voice," we learned from Gil Troy in a Time article. Before the revolution, voting happened in carnivals. People would call out their votes, and be counted. But because this was so public, this method was very easy to fake with. But even though this was a public voting system, not everyone got to vote. Originally, In the 1700s, the colonies, and later on, the states, made property requirements to vote. This meant you had to be wealthy, you had to be white, and you had to be a man, to vote.
During this time, slavery still existed - and it would continue to for the next 160 years. So that's more than 18% of the population that was unable to vote, because they were considered property. Then there were women, who were not able to vote at the time either, and they were about half the population. So most of the population in America could not vote at all.
"Still voting remained public, until the 1800s, as voters would sign their names under the candidates name or another's on a public ballot," Troy continued. This method had a bit of an advantage of being easy to count, and hard to fake, but the method was better for smaller elections. By about 1820 states took away the property ownership law, so all white men gained suffrage which means the right to vote. This was a step up, but not enough.
Troy explains, "As the size of the American government grew, and parties became more established, and known, printed ballots became more common. Each party would give out ballots with the names of the officials running the offices that were up for election." Voters would take a ballot from the party that they wanted, fill it out, and drop it in the box to be counted.
Later on, after the civil war, the 15th amendment was passed. The 15th Amendment was passed in 1870, and granted men of any race, the right to vote. Even though it was lawful for men of color to vote, people still tried to stop them by making them take unfair tests, and using an unfair rule called the Grandfather Clause. The Grandfather clause was a constitutional regulation for seven southern states between 1895, and 1910 to deny suffrage to African Americans, saying that if your grandfather couldn't vote, then you couldn't. This was unfair, because many of these African American men in 1895 were the first of their generation to vote.
"Once the 19th century arrived, American politics had grown increasingly divisive, and the secrecy of a person's vote became more important," says Troy. After the Civil War, the term "vest-pocket" voting emerged to refer to people who kept their ballots in their pocket, instead of having them displayed openly as you walked to the polling place. This was around the same time when women were granted the right to vote with the 19th amendment in 1920, doubling the amount of people voting.
When the 23rd amendment was passed in 1961, it finally gave the people who live in Washington DC the right to vote for the president, and vice president. The 24th amendment was passed in 1964. It was passed to prevent poll taxes so that rich, and poor citizens have equal access to vote.
In addition to the amendments, there have also been many laws passed dealing with voting rights. We will go over one. The voting rights act of 1965 was passed to give the U.S. government more power over the states to prevent states from using unfair laws. This had to happen because despite the 15th amendment- the one that got passed in 1829 giving men of all races the right to vote- racist people still found ways to prevent African Americans equal access to vote.
Voting has changed exponentially over time in the United States, but there is still much to do to change voting, so it is more fair. These are just a few of the changes that have happened. Since voting is so different from how it was such a long time ago, why not we learn how we vote now?
Well how do we vote now? First you have to register yourself so they can tell you the place in your area to vote. There are often many different places set up so it probably won't be far. So when you get to the voting place near where you live, first you give the people your first and last name, your driver's license, and then they will hand you a voting ballot, and that's when you go into the curtain to begin voting. But lately, there have been machines used instead of paper.
Once you finish pressing the buttons on the machine, the machine will print out a ballot. You will probably be voting for mayor, governor, and president and other people running for office. When you finish voting you slide the ballet in a box, and then they will hand you an I voted or an I voted today sticker. Voting now is way different than how people voted before. But this does lead us to one more question.
So really, why is voting important? When you vote, you make your voice heard. You help people see your point of view. If you don't vote, then how can the people that you want get in office? How can the world change? And even though us kids can't vote, we can still make a difference. We do this by writing to the people in power, and starting organizations that help our causes. We can also educate ourselves, and other people on voting. So when it comes time to vote, we are ready!
June 07, 2019
In accordance with Montessori philosophy, an important function of an Elementary Montessori educator is to give students explicit lessons in practical life. Practical life lessons encompass what we do each day to sustain our own health and to maintain a positive relationship with our immediate community and society at large. Practical life work is important and beneficial for the elementary Montessori student, as it meets the needs of a child in the second plane of development and it develops the skills necessary for defining and finding one's own unique, specific role in society.
Upper Elementary students routinely go outside of the classroom to extend their studies. Procedures for going out as well as expected behavior while outside of the classroom are explained to Upper Elementary students. Topics may include Grace and Courtesy while planning a going out (phone manners), how to speak to a docent or guide, how to behave at a museum etc., how to read a map, how to ask for directions, how to behave on public transportation, how to order food at a restaurant, and how to follow up your visit with a thank you note to your expert guide or docent.
Children in the second plane of development differ from first plane children in a number of ways, and the practical life curriculum speaks to these differences. The second plane is "a period for the acquisition of culture, just as the former was for the absorption of the environment" (Montessori, 1989, p. 3). The practical life curriculum delivers lessons in the acquisition of culture that are now of great interest to the child.
Practical life work develops real life skills that can be used immediately and routinely during real life experiences in an effective way. This empowering experience of mastering real life skills builds confidence in the second plane child. This development of social confidence provides a very effective model to the child for their developing academic skills and confidence. The sense of responsibility developed in practical life easily translates to academic responsibility. Students who make and follow a weekly work plan clearly know that what they plan and what they do is important and effective. Other academic skills developed through work in practical life include increased focus, lengthened attention span, improved problem-solving and critical thinking.
Practical Life work develops skills necessary for establishing and maintaining a positive relationship with the community and with society. The delivery of the Montessori curriculum, including the practical life curriculum, serves a critical social need.
An extremely important social task lies before us: activating man's value, allowing him to attain the maximum development of his energies, truly preparing him to bring about a different form of human society on a higher plane. (Montessori, 1992, p. xiii)
The practical life curriculum effectively contributes to activating the self-value of the second plane child. Lessons in going out afford him authentic, real world experiences, validating the importance of his role within society.
References:
Montessori, M. (1989). To educate the human potential. Oxford: ABC-Clio Ltd.
Montessori, M. (1992). Education and peace. Oxford: ABC-Clio Ltd.